United States Needs More Pollinators
Today, scientists, beekeepers, and the general public share a widespread concern over the global decrease in honey bee populations and the resulting reduction in plant pollination.
Clearly, there is a need for more pollinators. Orchard mason bees are an excellent additional source for plant pollination.
Urban Pollinators LLC in Eugene, Oregon, provides mason bee supplies to gardeners throughout the United States.
You can both increase the pollinator population in your area and discover a new hobby. Urban Pollinators has everything you need.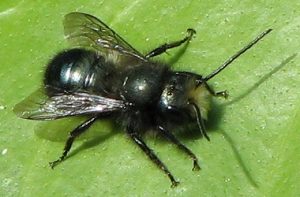 What Are Mason Bees?
Learn more about how these efficient, human-friendly, early spring pollinators will enhance your garden, orchard, and flower beds.
Hello everyone, we have exciting news!
My name is Rebecca Walker and I am the new owner of Mason Bees Supply. Please bear with me as Rick and I transfer ownership over the coming weeks. This site will remain open , and you can contact me through the contact page.
I have been gardening my whole life in some fashion or another, from a strawberry patch as a toddler, to house plants as a college student, and more recently the Horticultural Proficiency Program  through the  Lane County Extension Center, which has taken my gardening to a whole new level. I have been  cultivating my little urban sanctuary since 2004, although I've lived in Eugene since 1999.
I have cats, a dog, keep chickens and ducks, and a small apiary; all within my little urban garden.  I have been keeping mason bees for the last several years and find myself fascinated by them. I look forward to continuing to maintain existing relationships and creating new ones as we share our exciting and passionate curiosity about Mason Bees together. Thank you. 

Orchard Mason Bee Supplies from Urban Pollinators, LLC
Browse Urban Pollinators' quality selection of nesting houses and beekeeping supplies. Our houses are simply and effectively designed, time-tested, easy to clean, environmentally friendly, and offer years of service.
Urban Pollinators has earned a reputation for affordable prices on your essential mason bee supplies.
We'd love to talk with you about how orchard mason bees can improve the output of your garden, and serve your neighborhood, our community, and the globe. Here's how to contact us.